Otto's Story
Otto's Story
Each year, just under half of the poison exposures reported to poison centers across the U.S. are for kids under the age of 6 years. The following story highlights how poisonings among young children happen fast! Program the Poison Help number, 1-800-222-1222, into your phone today so you can get expert help just as fast!
***
Otto, Otto, Otto….this little guy landed his first ER trip tonight. A friend of mine at the bridal show today gave me a bottle of diffuser liquid in a glass bottle that I could put wood flowers in to diffuse. I got home and had a bunch of things I was bringing in and I had set this glass bottle on the table with a bunch of other stuff in my arms. It wasn't long before Otto was digging around everything on the table and found this glass bottle and drank it.  It probably looked like water to him as it was clear, and was in a fun bottle. But in the chaos of bringing everything in and unloading the vehicle, it didn't even cross my mind to set this up or away from him. After he drank it, he immediately screamed and started coughing. It has a very strong and heavy scent so I'm sure it burned.   He finally threw up after about 15 minutes but the coughing was pretty persistent so we called poison control. They could hear him coughing and only told us to hang up and dial 911. So to the ER we went. He's been a big trooper tonight and thankfully his coughing is better but the effects can take up to 6 hours to set in, so Otto gets an overnight stay for observation. This little guy is forever keeping this mama on her toes!  But I love this sweet little boy to pieces!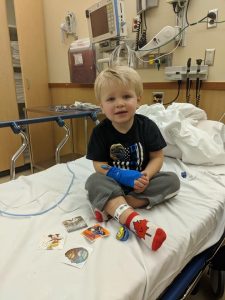 Time to go home! Seriously, this could have been so much worse. Apparently, if a child swallows something like what Otto did, there is a good chance that they aspirated some of it. The fumes alone are strong enough to cause harm as well. The peds doctor that checked him out this morning said another 2 year old had a similar incident with tiki torch fluid and after a few hours this 2 year old ended up on a ventilator for 2 days. After hearing that, I was so thankful we stayed to monitor Otto and make sure he didn't get worse in the middle of the night.
Chest x-ray showed there is possibly some pneumonia in one of his lungs. So we will monitor to see if anything gets worse, but for now, my little Otto is going home to hopefully take a 5 hour nap.