Prepare. Prevent. Protect.
Tips for Poison Proofing Your Home:
Store Household Products Safely:
Put household cleaning substances up and away, out of reach and sight.
Keep all products in their original containers.
When buying potentially hazardous items, look for child-resistant containers for an extra layer of protection.
Utilize child safety locks for cabinets, drawers, and doors to help prevent easy access of items that could be dangerous.
Check Your Purse for Potential Hazards:
Be aware of any medications, makeup, or nail products that may be in your handbag.
Store handbags out of the reach of young children.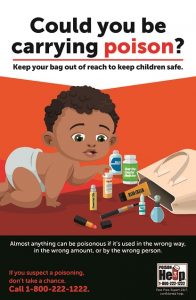 Medication Safety:
Never use a household measuring device for measuring medication.
Use a calibrated dosage cup or an oral syringe.
What to Do in a Poison Emergency:
Save the Poison Help number in your phone and post it visibly at home: 1-800-222-1222.
The Poison Help line is not just for emergencies. Call with questions about how to take or give medicine, concerns about plants, chemicals, carbon monoxide, bites, stings and more.
All calls are free and expert help is available 24/7/365.